Welcome to Real Estate Problem Solver. My name is Chris. We are Warner Robins, Georgia's premier home buyers.
We are a "house buying" investment company in the Warner Robins, Georgia area. We make offers to buy houses directly from the homeowner. No listing agreements, no showing your house to dozens of people. Smooth and simple.
Real Estate Problem Solver is the solution to your real estate problems. The advantage in selling your house to us is speed and flexibility. We buy houses with creative, easy, hassle-free solutions. Read more to learn what "creative house buying" means.
Our Smooth Selling process is a perfect solution to; buy your house in foreclosure, buy a house in probate, buy a house to settle a divorce, or buy a rental portfolio from a landlord that is tired of managing rentals. We can find a way to buy your house. Try us and you will like what you see.
Houses Coming Out of Forbearance In Warner Robins are Now in Trouble. We can Help.
Our house buying services are not for every Warner Robins Homeowner,
but It only takes about ten minutes to find out.
Your house is in foreclosure
Last minute job tranfer or PCS
Selling a house to settle a divorce
Can't afford the mortgage payments
Selling a house you inherited
Tired of being a Warner Robins landlord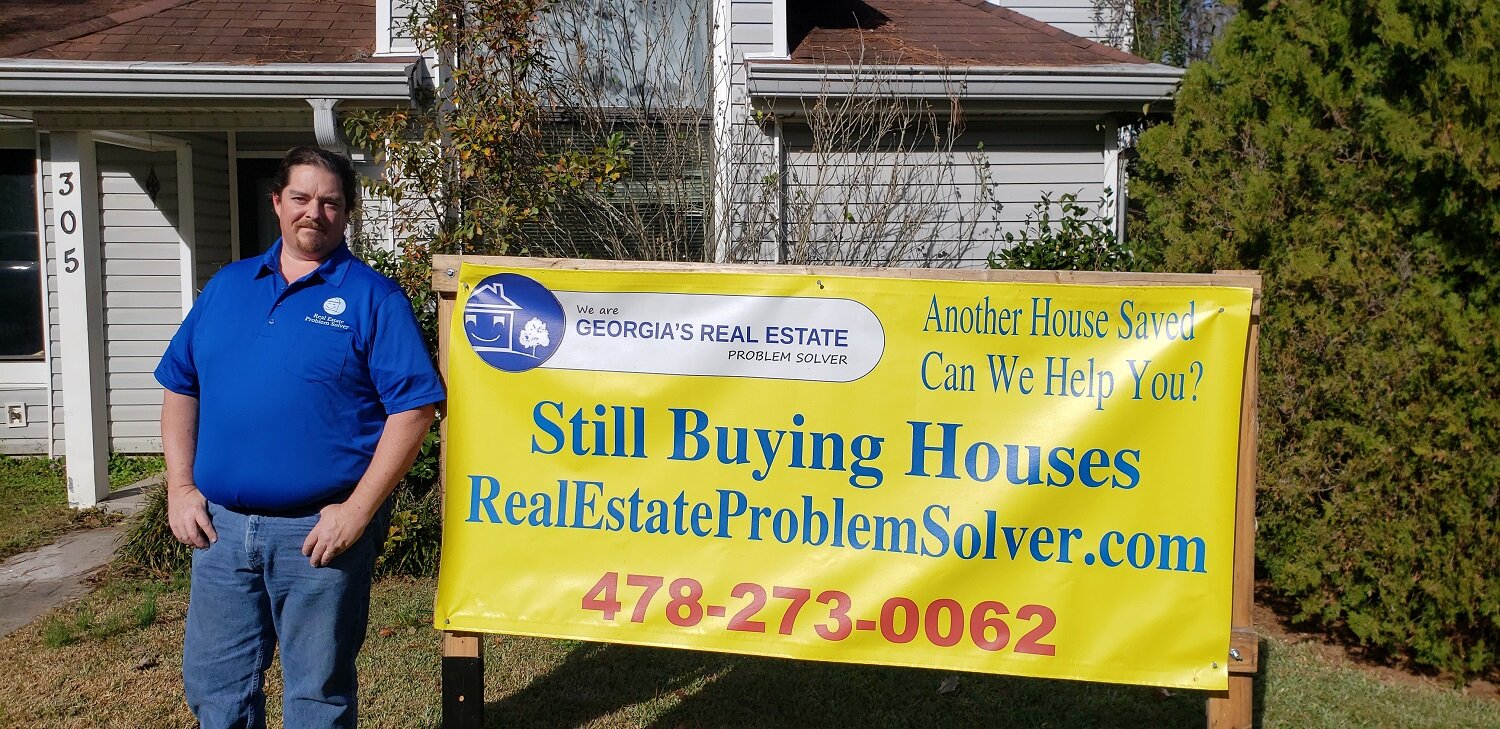 WE ARE Warner Robins GEORGIA's PROFESSIONAL HOME BUYERS. WHETHER WE BUY YOUR HOUSE OR NOT, WE WILL BE HONEST… IF WE CAN'T HELP YOU, WE WILL TELL YOU.
Still have questions about selling your house to us?
Time for FAQs
How fast can you buy my house in Warner Robins?
We can close the sale of your house in as little as 7 days.
Will I need to pay any fees or commissions?
Not if we buy your house. If you still want to list your house, we can do that too.
What if I'm not happy with the offer you make for my house in Warner Robins?
You are under no obligation to accept the offer we make for your house.
Can I sell my house to you if I am in a foreclosure?
A house in foreclosure is time critical. Don't wait till the last minute. Call NOW!
Ask Maria about us…
" … You bought the house in Warner Robins, saved my credit from foreclosure, and I am now in a more affordable home. Thanks again."
Maria-Warner Robins, Ga
We Buy Houses in Warner Robins to Support Your Military Mission!
---
Warner Robins, Kathleen and Bonaire Ga are military towns. Short fuse orders can force you into a PCS move without warning. We can support our troops by solving your house problem. Sell or lease your house in 10 days or less. You support the mission, we will do our best to provide excellence in all we do as well.
Warner Robins Probates are on the rise. We can buy your inherited house too.
Probate Attorneys
Cleaning Crews
Estate Sales Staff
Fast Service
Inspections /Appraisals
Tax Consulting
Don't loose sleep trying to sell a loved ones house. We buy probated houses fast and help get your life back to normal. Selling your inherited house can save you from dealing with its maintenance, past taxes and all the liability issues that comes with it.
We Buy Houses as-is, No Need To Clean or repair…
With the cost of building materials, it may not be worth repairing the house to sell. You may not be able to afford the repairs. BUT, if your house needs to be sold NOW or if it looks like the one below, just say "buy my Warner Robins house as-is" and we will buy that house and make it look like new too!
Need more proof we are a reputable house buying company?
It won't take ten minutes to find out if we are a good fit for you. You are here, looking for a solution to a problem. Come in and get it!!
---
Don't forget why your selling your unwanted warner robins house…
Need the cash
Costing you every month
Don't have time to maintain it…
Quit the stress and get some sleep. Advise is free. Sell your Waner Robins Ga house now!!
---
Your Warner Robins house could be sold in ten days or less. Cash in hand and DONE! Opt-in and see what we can do for you.
It Only Takes Two Minutes! Get Started Now...
For faster service, call (478) 273-0062... We Answer Our own Phone.
If you scrolled down this far, you ARE interested. What else can we say for you to opt-in?
---
100% Free
We make our living buying houses, our service is free to you.
Creative House Buying
This is how we buy your Georgia house when no one else can.
Flexibility
We don't "Low Ball". There are lots of ways to buy your house.
Sell your house fast
We can close on your unwanted property as fast you want.
Free Consultation
Even if we don't buy your house, the advise is still free.
Don't Sell, Lease
If your having a hard time selling your Warner Robins House, let us just lease your house from you.
---
If your need to sell (or lease) your Warner Robins Ga house, contact us.
In Ten minutes

, you will know if we are a good fit!

We can't work with everyone. But if you don't opt-in. You will never know!

We service: Macon, Perry, Hawkinsville , Bonaire Ga. and Kathleen Georgia areas